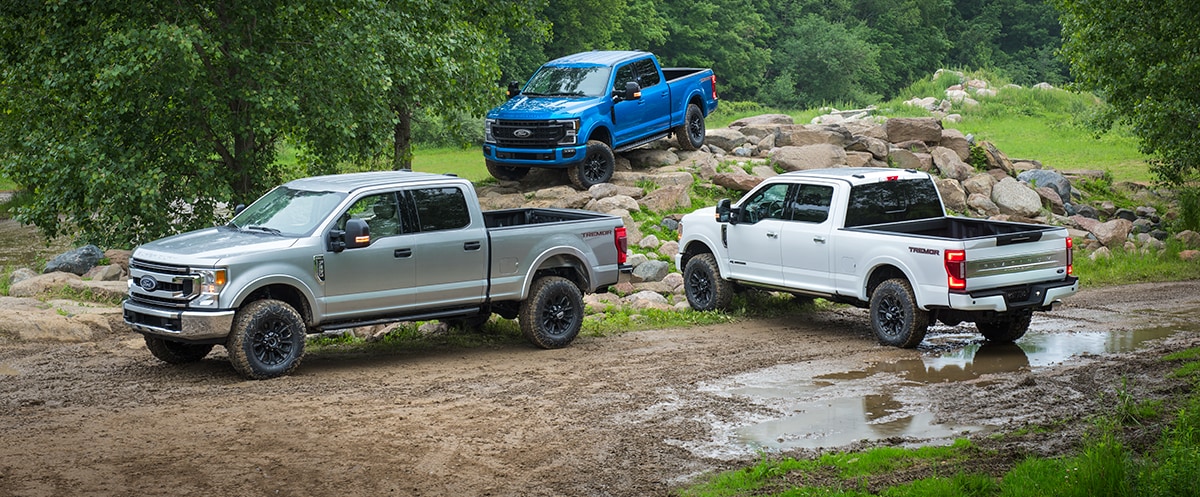 MORE POWER. GREATER CAPABILITY.
---
You don't stay ahead of the pack by standing still. That's why Ford Super Duty® for 2020 features the all-new available 7.3L OHV gas V8 and more muscular next generation of the available Power Stroke® V8 Turbo Diesel. Top-rated Super Duty gas and diesel power ratings combine with rugged frame and chassis engineering to achieve best-in-class numbers in every category of hauling and towing capability.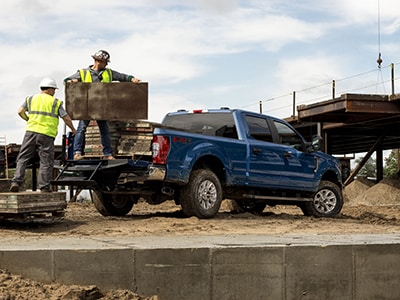 MORE POWER TO OUT-HAUL, OUT-TOW ANY OTHER FULL-SIZE PICKUP.
No surprise that Super Duty® for 2020 improves upon its already top-rated performance with an expanded line of available engines. There's the all-new available 7.3L gas V8 as well as the available next-generation 6.7L Power Stroke® V8 Turbo Diesel, both with best-in-class power ratings.
MORE MUSCLE FOR HAULING OR TOWING
The available all-new pushrod 7.3L gas V8 delivers durability and performance for strenuous everyday jobs. And the next generation available Power Stroke® V8 Turbo Diesel is stronger than ever. Both are teamed up with a new Ford TorqShift®10-speed automatic. So, with gas or diesel, you have more muscle for hauling or towing.
BEST-IN-CLASS DIESEL TORQUE AND HORSEPOWER
Torque is the brute force that gets you up and moving from idle with no strain or sweat, whether on a level paved road or up the steep hill of rocks and dirt on an off-road work site. Horsepower supplies the muscle that keeps you moving at speed over the course of a workday, whether you're hauling a large payload in the pickup bed or towing a huge trailer. With best-in-class* available 1,050 lb.-ft. of torque at 1,600 rpm and best-in-class 475 horsepower at 2,600 rpm, the newly updated 6.7L Power Stroke® V8 Turbo Diesel engine on the 2020 Ford Super Duty® reigns supreme in both categories, ensuring you have the power you need to get the job done.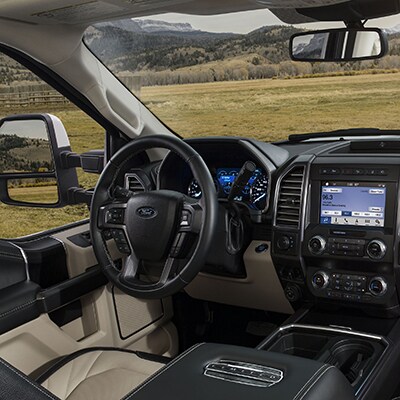 SUPER DUTY® NEXT LEVEL TECHNOLOGY.
F-Series trucks are built on a reputation of solid engineering performance. And now, Ford Super Duty® builds further on that reputation with major advances in technology, offering available driver-assist features such as Pre-Collision Assist with Automatic Emergency Braking (AEB) and Pro Trailer Backup Assist providing an experience of greater operating control and confidence.
REAR SEAT STORAGE AND LOCKING UNDER-SEAT STORAGE
You'll appreciate the convenience of Super Duty® interior design when you need to carry cargo and other items inside the cab. Both the SuperCab and Crew Cab models have a rear flat load floor that helps make it easy to load large cargo. The four-door Crew Cab offers an available class-exclusive folding lockable under-seat box that is integrated with the floor of the vehicle for storing loose items or things you'd want to keep concealed and secure.
DEPENDABILITY FOR TODAY - AND OVER THE LONG HAUL.
You drive a heavy-duty pickup not just for its power and capability. You drive it also because it's incredibly durable and can withstand the rigorous demands of hauling large loads and pulling huge trailers. That's why the Ford Super Duty® is designed to work for you over the long haul, whether you use it on the job or for recreation.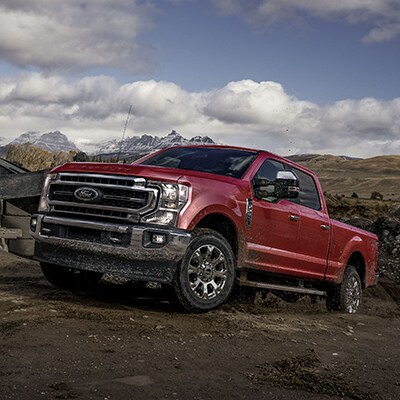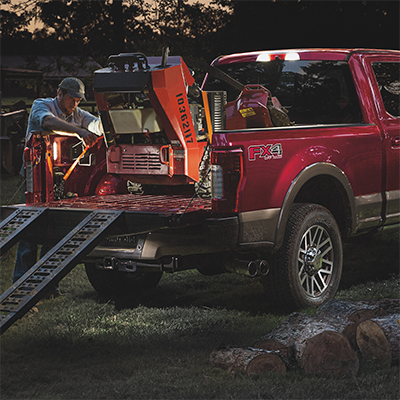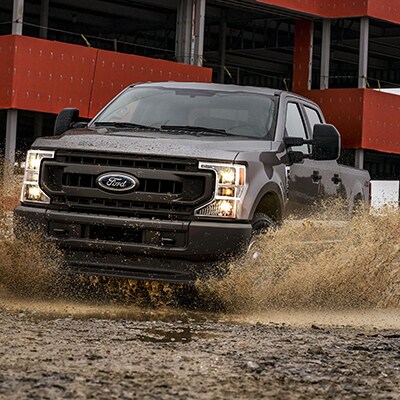 NEW HIGH-AIRFLOW GRILLE DESIGN
The new Super Duty® grille expresses the design principle of form following function. Note especially the unique grille design of the available dual-rear-wheel diesel Super Duty - it helps produce more efficient airflow to increase engine cooling.
HIGH-STRENGTH, MILITARY-GRADE, ALUMINUM-ALLOY BODY
The Super Duty® has the only high-strength, military-grade, aluminum-alloy body in its class. Aluminum alloy is substantially lighter than the previous steel body, yet it's remarkably strong. It's also more dent-and-ding resistant and not subject to rust. Use of aluminum alloy allowed some of the weight savings to be reinvested where it matters the most, especially in the frame, that's the foundation of strength and toughness.
BUILT FORD TOUGH®
Built Ford Tough® isn't just a slogan. It's an attitude that has produced America's premier line of rugged and dependable pickups for 42 straight years. Success on this high level is achieved by never letting up, never allowing the competition to catch up. One example: Super Duty is the first and only pickup truck in its class with a high-strength, military-grade, aluminum-alloy body and a frame made of more than 95 percent high-strength steel. Super Duty. It's Built Ford Tough.